Great Plates Citrus Heights
Feeding our Seniors and Loving Local-Great Plates Delivered
THE CITRUS HEIGHTS GREAT PLATES DELIVERED PROGRAM CONCLUDED ON DECEMBER 31,2020.

The City of Citrus Heights is participating in the Great Plates Delivered program. The program is a partnership between FEMA, the State of California and the City of Citrus Heights. The program is designed to support adults 65 and older and adults 60-64 who are at high risk from COVID-19. The Great Plates Delivered program will deliver three (3) nutritious meals a day and provide essential economic stimulus to the local community.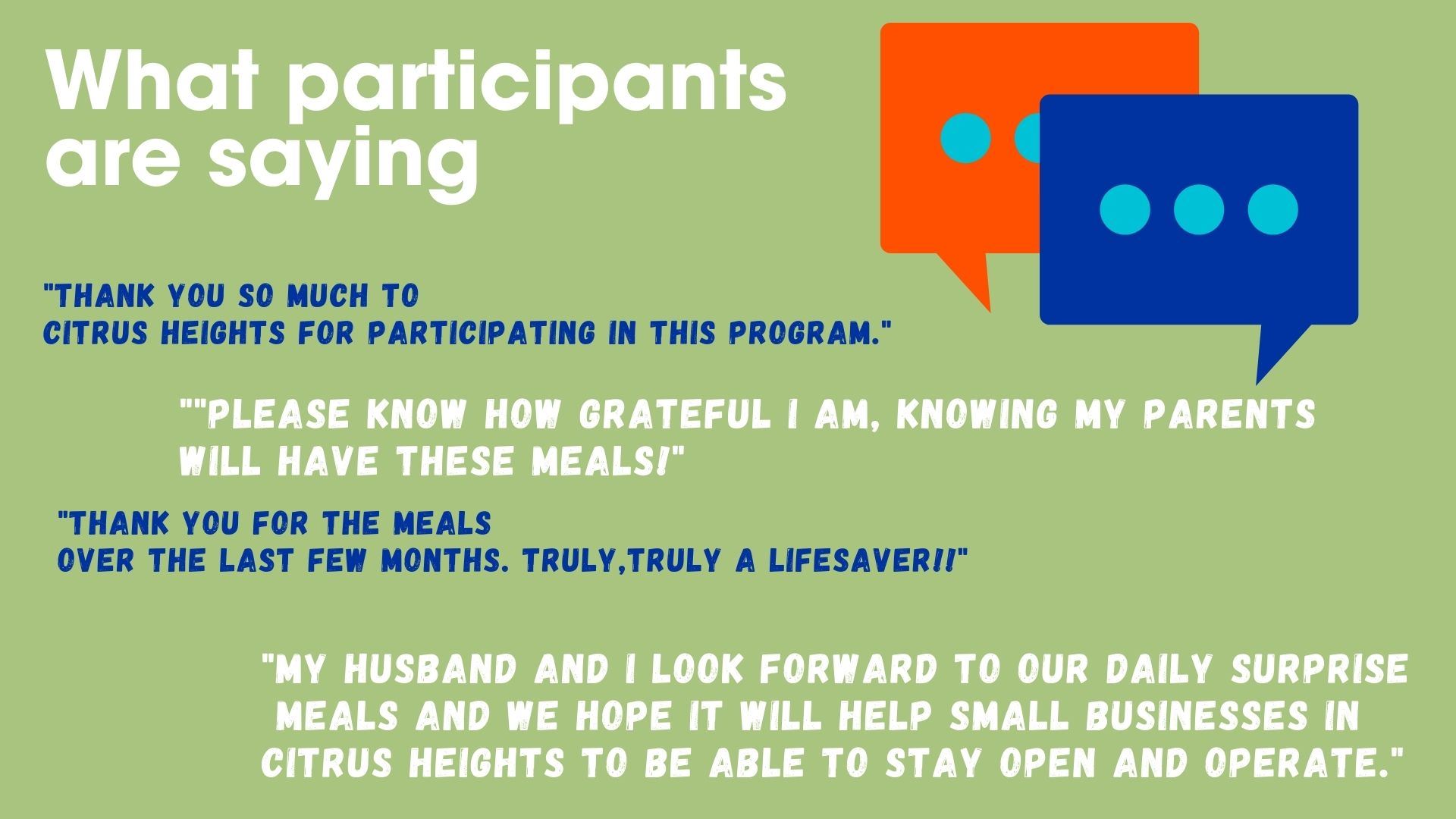 How does the program work?
Your City has screened and partnered with multiple local restaurants and food providers to deliver three (3) nutritious daily meals to qualified individuals in Citrus Heights enrolled in the Great Plates program. With portions of the program reimbursed by the Federal and State government, each jurisdiction's Great Plate program is locally managed to ensure the needs of each Californian community are addressed individually.
Who qualifies for enrollment into the program?
You may qualify if you meet all of the following requirements:
Are age 65 or older, or 60-64 and have been diagnosed with or exposed to COVID-19, or are considered high risk by the CDC
Live by yourself or with one other program-eligible adult
Are not currently receiving assistance from other state or federal nutrition assistance programs, like CalFresh/SNAP or Meals on Wheels
Have difficulty accessing food resources or preparing your own meals
Live in the City of Citrus Heights
Income Eligibility Requirements:
The individual is eligible for the program if the annual income is within the following income range:
• $24,981 - $74,940 (single household) or
• $33,821 - 101,460 (two-person household)
If the annual income is below:
• $24,980 (single household)
• $33,820 (two-person household),
The individual is not eligible for the program, but may be eligible for the following resources below:
1. CalFresh/SNAP Benefits: 1 (877) 847-3663
2. Older Americans Act Home Delivered & Congregate Meals: 1 (800) 677-1116
If the annual income is above:
• $74,940 (single household)
• $101,460 (two-person household)
The individual is not eligible for the program
How many meals a day will be provided to each participant?
A maximum of three meals per day per participant.
I have special dietary needs, is this program able to meet those needs?
During the selection process for the restaurants participating in the program, City staff has taken into consideration the community's different dietary needs for health, religious, and personal reasons and our team will do our best to accommodate you. Please note that all dietary accommodations may not be possible.
Are the meals nutritious?
We have directed our participating restaurants that meals need to be low in sodium, and the lunch and dinner meals should each come with a piece of fresh fruit or a vegetable. No sugary drinks are allowed.
Can I choose my restaurant?
No. Restaurants are assigned based on many factors, including delivery capacity and dietary needs.
How long will this program be available?
Currently, the program will run through December 31, 2020.
What does it cost to participate?
There is no cost to eligible participants.
What safety precautions are being taken?
Individuals providing delivery of meals must complete a background check to ensure safety of participants. All restaurants will have a current PASSED Sacramento County Health Inspection. Restaurant owners and managers are closely monitoring the symptoms of their staff.
Have additional questions?
Email: greatplates@citrusheights.net
Phone: 916-727-5400