Citrus Heights Community Center
Citrus Heights Community Center- 6300 Fountain Square Drive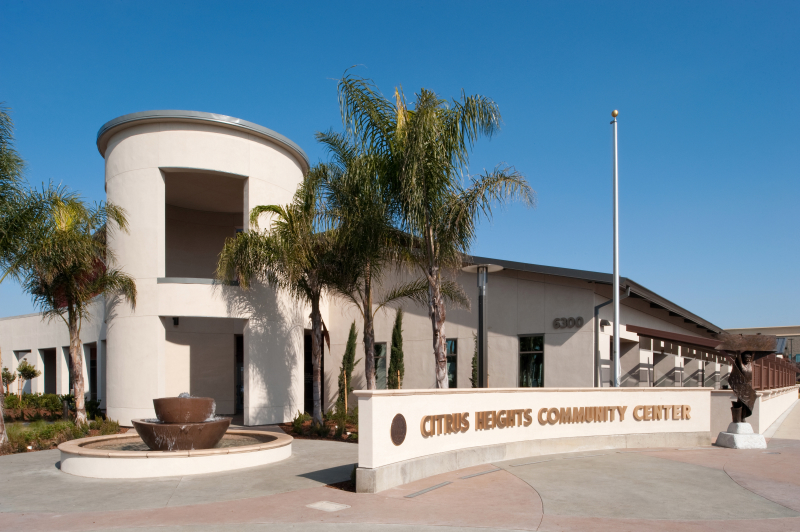 The City of Citrus Heights is pleased to welcome you to our exciting 29,173 square foot Community Center located at 6300 Fountain Square Drive across from the Citrus Heights Police Department and south of City Hall.
Visitors are greeted at the main plaza entrance by a beautiful bubbling water fountain before walking through the tower into the building. This wonderful facility has meeting and entertaining areas that can accommodate from 12 to 966 people.
Provisions
The building provides a high tech Audio Visual system, a first class commercial catering kitchen as well as patio and barbecue areas.
The Senior Center is a semi-self contained area for social gatherings and is a portion of the main building with its own indoor and outdoor fireplace and trellised patio area. View the Senior Center Code of Conduct Policy (PDF).
The facility provides an inviting atmosphere for a wide range of community activities and is available to rent for private parties, weddings, birthdays, dances, banquets, business events, fundraisers, memorials, meetings and many other functions.
Catering
All events which involve a kitchen rental at the Community Center are assessed a catering fee. If you select one of our preferred caterers, the catering fee will not apply. Each of the preferred caterers was selected based on their outstanding qualifications and experience in the catering field. We are confident that our preferred caterers will provide excellent service and help make your event a success.
Please contact Community Center staff for a current Preferred Caterer List. We would like to encourage you to contact each of the preferred caterers and get an idea of their menu choices and services that are available. Please let them know that you are using the Citrus Heights Community Center for your event.
If you decide to choose a caterer that is not on our preferred catering list the fees are as follows:
Additional security deposit - $350
Basic catering fee - $404
All non-preferred caterers are required to submit insurance.
Event Cleaning Services
The Citrus Heights Community Center offers clients a fee option for cleaning services throughout the event and the conclusion of the event. These services include:
general removal of trash in the trash receptacles;
removal of any items left behind (once client has vacated the premises); and
kitchen cleanup (once all clients items are removed from the premises). Cleaning Fees are outlined as follows (fees are based on "per day"):
100 people or less (0-100ppl): $200.00
101-300 people or less (101-300ppl): $300.00
301-500 people or less (301-500ppl): $400.00
501+ people or less (501+ppl): $600.00
South Room A

South A/B/C

Community Hall B

Community Hall C

Optional Rental Item- Bar

Community Hall ABC

Optional Rental Item- Stage

North AB

East Room ABCD

East Room ABCD

Kitchen B

Senior Center Patio

South Patio

Citrus Heights Community Center