Community Development Block Grant
Community Development Block Grant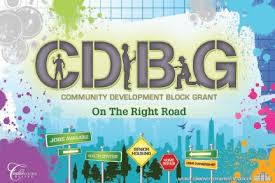 2021 Community Development Block Grant (CDBG) Funding
The City of Citrus Heights released its funding application for 2021 CDBG funding. The city receives an annual entitlement of Community Development Block Grant funds from the U.S. Department of Housing and Urban Development (HUD).
Each year, the city awards a portion of its CDBG funds to non-profit agencies to provide activities that benefit low- and moderate-income areas and/or persons. Past programs that have received CDBG funds include meals for seniors, youth programs, homeless services, housing counseling, job employment, and domestic violence services. This application is not open to construction projects, rather intended for non-profit agencies. If you are interested in applying for funding, complete the application, click on the application below.
2021 Community Development Block Grant Application - Due August 3, 2020
The city anticipates the following schedule for reviewing submitted applications and determining funding awards.
July 10, 2020

Release Request for Proposals for 2021 CDBG funds.

July 30, 2020

Funding Assistance Workshop from 3:30 PM - 4:30 PM
Zoom Meeting
Workshop is optional

August 3, 2020

Applications are due by 4:00 PM

October 8, 2020

City Council Meeting
Draft Annual Action Plan considered, preliminary allocation of funds.


September 21-October 22

Annual Action Plan Public Comment Period


October 22, 2020

City Council Meeting
Final Annual Action Plan adoption and final allocation of funds.

Entitlement Community
The CDBG Program grants federal funds to state and local governments for a variety of housing and community development activities. The City receives CDBG funding as an Entitlement Community. The national objectives of the program, administered nationally by the U.S. Department of Housing and Urban Development (HUD) are to:
Provide decent housing,
Create a suitable living environment, and
Expand economic opportunities for low and moderate income people.
See the Planning documents provided to learn more about the City's use of these funds.
Public Notice
Public Notice - 2021 Community Development Annual Action Plan 10.8.2020
Citizen Participation Plan for the Community Development Block Grant Program
The City is required as a recipient of HUD funds to have a detailed Citizen Participation Plan. This plan contains the City's policies and procedures for public involvement in the Consolidated Plan process for funds.
Citizen Participation Plan Amendment 5.28.2020
Five-Year Consolidated Plan
The Consolidated Plan is required by the U.S. Department of Housing and Urban Development (HUD) in order for local jurisdictions to receive federal housing and community development funds under the Community Development Block Grant (CDBG) funding. This plan is for 2020-2024 and is updated every five years.
2020-2024 Consolidated Plan & 2020 Annual Action Plan
Annual Action Plan
The Action Plan describes the projects and programs the City will carry out to meet its goals over the course of the fiscal year. The Action Plan relates annual expenditures of the grant funds to the Five-Year Consolidated Plan.
Consolidated Annual Performance and Evaluation Report
Each year, the City must prepare and publish a Consolidated Annual Performance Evaluation Report (CAPER). This report documents the city's performance against the annual goals of the Action Plan and the Five-Year Consolidated Plan.
Analysis of Impediments to Fair Housing Choice (AI)
As a recipient of federal community development block grant (CDBG) funds, the City of Citrus Heights is required to conduct an Analysis of Impediments to Fair Housing Choice, or AI. The AI is a planning process for local governments and public housing agencies (PHAs) to take meaningful actions to overcome fair housing barriers; including, historic patterns of segregation, promote fair housing choice, and foster inclusive communities that are free from discrimination.
The AI summarizes fair housing barriers and contributing factors that may affect the ability of a household to access housing of their choice. The AI outlines demographic patterns, housing challenges, and access to opportunity. The AI summarizes the goals and strategies to address fair housing barriers in the Sacramento Valley region.
In addition, community engagement was a key component throughout the development of the AI. The community engagement process for the Sacramento Valley AI included focus groups with residents and stakeholders, "pop up" engagement at local events, and a resident survey.
The AI was prepared by Root Policy Research and conducted for the Sacramento Valley region as a joint collaboration among the following entities: Citrus Heights, Elk Grove, Folsom, Galt, Housing Authority of Sacramento, Isleton, Rancho Cordova, Rocklin, Roseville, Sacramento, Sacramento County, Sacramento Housing and Redevelopment Agency, West Sacramento, Woodland, and Yolo County Housing.
Analysis of Impediments to Fair Housing Choice - February 27, 2020 (AI)
Accessibility Requests
Persons interested in participating in the annual CDBG planning process or who wish to apply for CDBG funding who may require accessibility assistance should contact the city at least five business days prior to a meeting date to allow the city time to make the arrangements. All meetings are held in an accessible structure. Accessibility assistance examples include:
Persons with limited English language proficiency and require an interpreter
Persons who require an American Sign Language interpreter